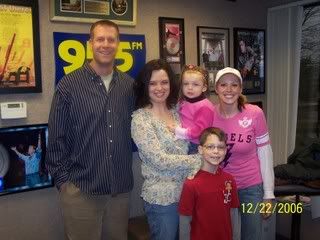 Len, Holly Link (+ adorable kids), and Brooke!
Here are two delectable recipes of the week thanks to Holly!
THE BEST CHOCOLATE BUNT CAKE EVER
1 pkg yellow cake mix
1pkg instant chocolate pudding
½ cup sugar
1 cup sour cream
¾ cup vegetable oil
¾ cup water
4 eggs
1 cup semi-sweet chocolate chips
Combine cake mix, sugar, and pudding mix. Add sour cream, oil, and water; mix well. Add eggs one at a time. Beat well after each addition. Stir in chocolate chips. Pour into greased and floured bunt cake pan. Bake at 350 for 50-55 minutes. When cool, sprinkle with powdered sugar or drizzle melted white chocolate on top.
EASY APRICOT SAUSAGE APPETIZER
1 package of smoked sausage with the skin 2 jars of Smuckers Apricot jelly Cut the smoked sausage into bite size pieces, put into a bowl with the jelly. Bake covered for 1 hour at 350. Pour easy into a crock pot set on warm. Have or bring toothpicks so people can use them to eat the smoked sausage with. A great and easy recipe!