It's product-test time! Thanks to the great people at "Not Your Daughter's Jeans" who gave us their popular Tummy Tuck Jeans to try. The claim: flatten your tummy, lift your rear, and make you one size smaller!! What women wouldn't love that?! We called on Mom Squad panel members Angela, Noelle, and Beth to put them to the test.
Here is the BEFORE:
AFTER (wearing the Tummy Tuck Jeans)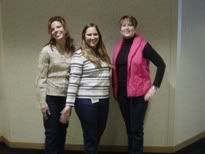 Result: 3 thumbs down! While the jeans got high marks in "sucking in" the ladies said the style left a bit to be desired. The high-waist look was undesirable to all 3 moms and in the end they all said it was not something they would spend $100 on.
Special Note: Thanks again to the company Not Your Daughter's jeans for allowing us to test their product and give an honest review. It is important to note that different styles and colors are available at the website! You can find out more at
www.tummytuckjeans.com