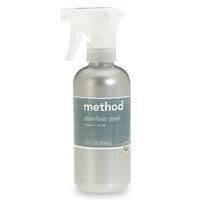 Method Stainless Steel Cleaner
It is a non toxic and biogradable product
It is naturally derived and there is no animal testing

I have stainless steel appliances in my kitchen, I love the look of stainless steel, I llove it a lot more with it is clean.. And if you have or every have had stainless steel appliances you know that keeping it clean and streak free is not an easy task. I have tried a couple products and they do work. But I saw this product at Giant Eagle recently and thought I'd give it a try. It would be great to find a good cleaner that was also environmentally friendly. This product meets both those requirements.
It is easy to use, leaves your stainless steel clean and protected.
When you see it in the store the next time you are wondering the cleaning isle, remember it gets a definite Mom Squad seal of approval seal.