With the economy in a rough spot and money tight, many families are cutting back. One local woman has a unique insight into making the most of a dollar and stretching groceries and space. She is a mom of 10! We sat down with Mary Roshak to hear about how she does it.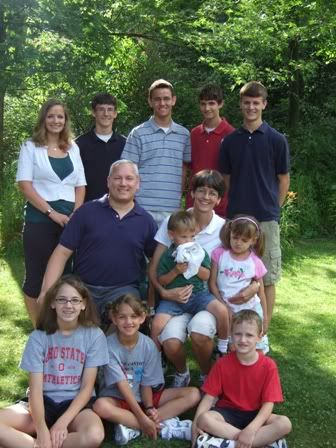 You and your husband Tim are blessed with 10 children. Just so we can get a perspective, can you tell us their ages?
23, 22, 19, 17, 15, 13, 8, 6, 5, 3 and one in heaven who would be 20 now.

Did you always know you wanted a large family?
Yes, I remember that specific thought went through my head in 4th grade. I knew I would have a lot of children. I'm not sure if God put that thought on my heart but I knew deep down that I wanted many children. I am also one of 9 kids so being raised in a family that was open to life and having so much fun with my siblings was also what I wanted for my own children.
My husband, on the other hand, didn't know what he was getting into. He never really thought about how many kids he wanted…

Many families find this day and age to be a challenge in terms of keeping up with kids activities, events etc. How do you manage so many schedules?
We try not to stress over it. Right now we have our own built-in- babysitting in place so that one of the older kids is usually home to watch the younger ones. If not, the younger ones go with us. It is actually getting a lot easier now to get everyone in the car quickly because the youngest are a little older and we just got beyond the diaper stage. YAHOO!
We also allow one activity per-child, per-season. Our oldest children all did cross-country and track so it was a family sport. We could watch 3 of the kids participate at the same time.
We have a big office calendar on our wall to keep track of all the kids schedules.

How often do you have supper together around the dinner table?
About 5 times a week. This is very important to come together and share in each others' day.

I imagine you must know how to make your groceries go a long way. Can you share some of your favorite money-saving tips when it comes to food?
I either buy in bulk at Sam's Club or only what's on sale at the supermarket. When making dinners I don't use a lot of meat. I fill them up by making lots of rice (5-6 cups), or lots of pasta, or mashed potatoes. I guess I'm heavy on the carbs.
I also try to make my own homemade desserts rather than store-bought packaged goodies.

What are some of your favorite recipes?
I love to do casseroles because I can prepare them ahead of time. Usually by dinner-time it gets to be crazy hour with the kids: some may be having melt-downs, while others need to be picked up from sports. So anything prepared ahead of time is good.
Meatloaf, lasagna and spaghetti are always hits. I also do a Kraft macaroni and cheese casserole with hamburger, tomato soup and corn added. Chicken and rice casserole is also another staple.

How do you keep costs down on clothing and sports equipment, etc?
Hand-me-downs are a life-saver. We have friends and family that are gracious enough to pass on clothes to us. Our children also have been blessed with a lot of cousins (34 so far) who we share clothes with.

Do the kids share rooms? What are some ways to maximize space?
Yes, everyone shares. For awhile we had 4 boys in 1 room in 2 sets of bunk-beds. We also had 4 girls in 1 room in 2 sets of bunk-beds. The youngest 2 boys were in the smallest room. Maximizing space means trying to live simply. We always seem to be short on drawer space so I am constantly thinning out. The kids tend to wear the same 3 sets of clothes over and over so all those other clothes are really unnecessary.

I can never keep up with the laundry in my home! Your family is more than twice the size of mine…what is your secret?!:)
Doing laundry is my sanctification – that's the only way I can think of it. haha. I will not do laundry on Sundays so by Monday I can have 6-7 large loads waiting for me. On average I do about 3-4 loads a day. I keep a small crucifix on my dryer, so that every time I throw in a load, it reminds me to say a prayer for the poor souls in purgatory. This is a way for me to try to live in the presence of God and offer all I do for His glory and to help others out. (I guess I would rather suffer through another load of laundry than be suffering in the fires of purgatory!)

What are some ways that you stay connected with your husband?
After dinner, when the kids leave the table, we will sit there and talk. Also when Tim and I have a school function, or sporting activity, or errands to run, we enjoy our time in the car together to reconnect and catch up on each other's lives. I consider this our 'together' time.

What would you say to someone who loves children, but is afraid to have more (or any) because of challenges like: rising costs of health care, expenses for college, crime, the economy, etc.
I would say that they need to put all these concerns aside and pray to let God's will be done in their family. They should pray to be open to life because a child is the best natural gift God can give a couple. If someone gives you a gift, you don't say 'no thanks' and give it back. Yet that is what we are doing when we intentionally are not open to life. I know this sounds simplistic but if a couple lets fear be the reason for limiting their family size then they may be missing out on the beauty of what God has in store for them.
We've found that after the first 4 children it actually gets easier to have more children. By the time you're on number 5 or 6 the older ones are pretty self-sufficient and can take care of their own basic needs and really help out with the younger ones.
This question is really interesting because over the years we've received many comments from couples of grown children that say they wish they would've had more children now that they look back over their lives. It seems that what were concerns/fears of theirs in their child-rearing days turned into non-issues in hindsight.

What is the best thing about having a large family?
It is so fulfilling to see the kids enjoying each other and having fun together. Having a baby/toddler in the house brings so much joy to everyone. Their innocence and antics draws everyone to them. I knew that I always wanted a baby in the house and for the last 20 years I have been blessed with exactly that!

How do you instill faith into your children?
- Mass on Sundays and holydays of obligation. I want them to be in awe and reverence of Christ's presence in the Eucharist.
- Monthly confession helps us all to keep trying to be better.
- Morning prayer with the kids before they go to school.
- Mealtime prayer.
- Family rosary during the evenings. Outside of the Mass, the rosary is our most powerful prayer because it is a way to meditate on the gospels (the life, passion, and glories of Our Lord).
- I teach them their catechism. I want them to be knowledgeable in their faith
I want eternal salvation for my children. I want them to experience God's love for them so they can be a light to others.

What is a piece of advice that you could offer moms that you have learned on your journey?
In the words of St. Theresa of Avila
Let nothing disturb you
Let nothing frighten you
All things are passing
God alone suffices.
I find that daily living can be filled with so many concerns and anxieties and Our Lord wants us to do our best but not to fret over things. I think these words from St. Theresa are a reminder that our lives are a journey towards the eternal. We need to learn to trust in Him and things will work out.